2

Concept Primer

VisionEval differs from traditional travel demand models both in how it works and what kind of planning concerns it helps to address. This chapter provides a quick introduction approach to the unique features and applications of VisionEval. It reviews the main model components and key concepts at a high level, to assist new users in understanding concepts they will apply as they set up scenarios, develop inputs and evaluate outputs. Links to more detailed documentation will allow the reader to delve further into each topic, as they choose.
2.1

What can I do with VisionEval?

Structurally, VisionEval may be described as a "disaggregate demand/aggregate supply" model. That is, it combines rich demographic and socioeconomic detail from a synthetic population with aggregate treatments of travel (multi-modal VMT and congestion without explicit trips, or transport networks). The implication of the "aggregate supply" model is that VisionEval cannot be used to evaluate performance of specific projects or corridors.

What VisionEval can do, and even makes especially simple, is to evaluate large numbers of scenarios and explore how combinations of alternative future conditions might affect performance measures. Travel demand models, whether built using traditional trip-based or more contemporary activity-based techniques, sacrifice flexibility for network detail. It is difficult in such models to capture novel behaviors such as an increased propensity to use inexpensive ride-hailing services, or to express shifts in vehicle ownership and occupancy that may be influenced by multiple factors some of which have not yet been observed. Yet these potential shifts are often very important for assessing the potential of pricing, investment strategies or other policy priorities. VisionEval also makes it relatively simple to explore risks and opportunities that may eventually be realized as new transportation options mature.

VisionEval won't help us determine if a particular highway segment should be built or upgraded, or what kind of transit service improvements should be extended into new areas. But it can help us look at the market for new technologies, and explore future scenarios that are based both on changed circumstances (altered demographics, increased congestion, or alternate road pricing strategies) as well as on changed behaviors (including behaviors that might happen, but that we have not yet observed because the key enabling technologies are too early in their deployment). VisionEval results can be explored in detail by market segment, asking questions about how benefits might be distributed regionally, and what overall system performance might look like.

Ultimately, VisionEval is a system for asking a very broad range of "what if" questions about how the transportation system might perform, and how its benefits and costs might be distributed over the community. It can efficiently process hundreds of scenarios looking at many different types of interventions, alternative policies, and hypothetical future conditions and travel behaviors. The results can inform strategic questions, helping decision makers answer questions such as "What are our options for achieving this performance result?" or "What are our risks if new transportation technologies develop in these different ways?"

Using VisionEval to answer such questions does not make other types of modeling obsolete (such as travel demand models or corridor microsimulations). Instead, it helps to determine what is worth the effort to code into these more detailed models, and also to explore and document novel assumptions about the future that may require extra effort to implement, and that would be prohibitively expensive to explore through traditional planning models.
2.2

Strengths and limitations

VisionEval operates at broad geographic levels and without explicit network representations to enable very fast analyses across scores of different assumptions and inputs. It is especially well suited for quickly evaluating several different combinations of policies or assessing the range of impacts when uncertainty exists in several key inputs. Because much of the travel behavior is asserted based on observed travel patterns the latter can be changed to reflect expected changes due to new technologies, services, and expected changes in behavior over time. Thus, VisionEval is better suited than traditional travel modeling approaches for certain pursuits:
Screening a wide range of policy actions, especially in the face of uncertainties where ranges of expected responses or effects must be considered
Resilience testing under uncertainties (e.g., population growth, household size, fuel prices)
Directly "comparing and contrasting" broad ranges or combinations of policies (e.g., ITS, transit service, active transport, demand management)
Analysis of broad policy or technology changes (e.g., carbon taxes, low-carbon fuels)
Evaluating fuel consumption, particulate emissions, and greenhouse gas emissions impacts of proposed policies
However, VisionEval is not well suited for detailed geographic analyses, to include the effects of congestion on individual trips or tours. Thus, examining the effects of localized land use (e.g. parcel or block) or network assumptions cannot be carried out using VisionEval. Improvements in network capacity, efficiency, or safety can only be indirectly incorporated in VisionEval.
2.3

VisionEval geographies

Traditional travel forecasting models divide a study area into thousands of traffic analysis zones in order to facilitate highly granular spatial analyses. This allows trip (tour segment) origins and destinations to enter and exit a detailed representation of the multimodal transportation network in order to study network flows, congestion, and efficiency outcomes. VisionEval operates at a much broader spatial scale, using several levels of geography:

The location type of each household is also coded as urban, town, or rural areas. A place type is also defined in terms of urban density and its mix of jobs and housing. Both are usually defined for each Bzone used in the model.
Watch a video presentation with more information about VisionEval geographies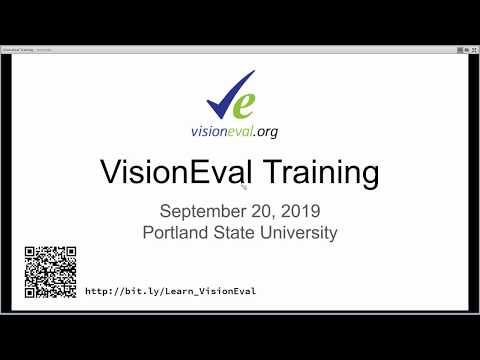 2.3.1

Performance metrics

The following table summarizes many of the possible performance metrics that can be summarized at the region level. The ability to easily export the data enables the analyst to construct new or different performance measures easily.
Mobility

Daily VMT per capita
Annual walk trips per capita
Daily Bike trips per capita

Economy
Land Use

Number or percent of residents living in

mixed use

areas
Number of dwelling units by housing type (e.g., single family [SF], multi-family [MF])

Environmental

Annual greenhouse gas emissions per capita
Household vehicle greenhouse gas/mile
Commercial vehicle greenhouse gas/mile
Transit vehicle greenhouse gas/mile

Energy

Annual per capita fuel consumption for all vehicles (gallons)
Average

fuel efficiency

(net miles per gallon) for all vehicles
Annual external

social costs

per households (total/percent paid)
2.4

Typical applications

VisionEval can be used to inform planning in several different realms, as described in the following sections.
2.4.1

Strategic modeling

VisionEval is a strategic modeling system. It differs from traditional travel demand and microsimulation models principally in that it is applied earlier in the planning process, and it is used for different purposes. Rather than examining the detailed performance of specific facilities (assessing individual projects), VisionEval estimates regional and small area performance metrics that reflect overarching policy goals such as emission reduction, regional VMT, or mode share.

Traditional travel models used for planning purposes are applied to estimate outcomes under a small number of alternate input scenarios that vary land use characteristics (e.g. type and density of land uses), socioeconomic characteristics (e.g. population, ages, incomes), and/or transportation characteristics (e.g. road alignments, lane configurations, tolls, etc.). In these models, the response to the changed inputs is estimated based on parameters typically derived from household surveys and other related data sources: that is, the behavior in the model is presumed to be what we see today. Even though such models are often behaviorally complex (e.g., activity-based models), the effort required to assess many alternative scenarios is often prohibitive, and because such models are built using complex estimation procedures rooted in detailed data about existing behavior, it can be technically difficult or impossible to reliably encode possible future shifts in behavior, or to explore alternative possible future behaviors.

VisionEval is typically set up to run many scenarios that explore a broad set of alternative policies and investment priorities that may result from a variety of possible categories of policy and project interventions, or from a range of possible future conditions (strong or weak economic growth, demographics that shift at different rates), or from uncertain deployment of new technologies such as app-based ridesharing (Transportation Network Companies or TNCs).

A full application of VisionEval may examine hundreds or even thousands of permutations of inputs representing many possible future outcomes. The outputs allow planners and decision-makers to explore the outcomes of each scenario compared to the others, so they can visualize and discuss the relative impact and cross-influences, as well as the unintended consequences, of factors represented across the scenarios. VisionEval allows planners to assess alternative assumptions about uncertain phenomena such as autonomous vehicle (AV) deployment, it is a very effective tool for identifying risks and opportunities, as well as for formulating effective strategic responses to new challenges for which little current data exists or for which many outcomes are possible yet none are certain. The most interesting of the resulting strategic plans can be refined with more detailed models. Based on the strategic modeling findings, uncertainties can be confidently simplified into a smaller number of scenarios to explore in detail.

Notwithstanding its typical application as a strategic model, VisionEval does allow detailed investigation of certain phenomena such as fleet composition and vehicle ownership in relation to Greenhouse Gas Analysis. It also is unique in its ability to explore budget constraints on travel. Its simulation of individual households enables it to assess policies that would be difficult or impossible to model successfully with traditional models.
2.4.2

Local policy actions

VisionEval is well suited for evaluating a wide range of local policies at varying levels of geography:
2.5

Scenario analyses

A key value of VisionEval is how it facilitates running many scenarios or possible futures. In practice, the user typically starts by setting up the model with a reference scenario (i.e. a scenario that represents current policies and extrapolation of current trends). The model can be validated for current and past years at this point. This Reference scenario then serves as a pivot point for the development of alternative scenarios that modify one or more policy assumptions or other assumptions about the future (e.g. assumptions about urban area expansion, assumptions about future light-duty vehicle fleet composition). Because VisionEval models address a large number of factors that are specified by dozens of input files, and because each set of inputs could have many different values, the potential number of alternate scenarios that could be defined is probably uncountable. For this reason, the scenario generation process is simplified by defining categories of inputs that are related in how they affect behavior or are related in how policies are likely to be deployed. An example of the former would be the definition of a pricing category that groups all inputs affecting the price/cost of operating light-duty vehicles (e.g. fuel price, congestion price, carbon price). An example of the latter would be the definition of a land use category which in addition to including land use inputs such as development density, also includes transportation inputs that are associated with land use such as transit service frequency. For each category of inputs, several levels of change from the reference scenario assumptions are defined. Alternate scenarios can then be developed by swapping out reference scenario inputs in each category with different level inputs for the category. This is typically done in two ways:
Sensitivity tests that change a single category of inputs for each run. Such tests are useful for exploring the relative effects of each category.
Combinatorial tests which compose scenarios from combinations of all categories and all levels.
Note that the number of combinatorial scenarios is a function of the number of categories and the number of levels in each category. For example, if inputs are grouped into 5 categories and each category has 3 levels, at total of 243 scenarios (3x3x3x3x3) would be generated by all combinations. For this reason, automated processes are typically developed to aid in the set-up and running of these scenarios, and analysis of the results.
2.6

Building blocks
2.6.1

Household synthesis and land use

One of the strengths of VisionEval is the rich detail on individual households. This allows for household specific policies, travel behavior can respond to specific household costs and attributes, and outputs can be mined for differences by population groups. The approach of building on a synthesized population borrows from the state of the practice in activity-based travel demand models.
Watch a short video on household synthesis
VisionEval creates simulated households in each Azone from user-supplied projections of persons by age group and average per capita income. Each simulated household has the characteristics of the number of persons in each of 6 age groups, number of workers in each of 5 age groups, lifecycle category, and household income. The simulated households are assigned a dwelling unit type (single family or multi-family) using a model that is sensitive to the household characteristics and the number of units of each type assigned to the Azone (based on user inputs). Each simulated household is assigned to a Bzone based on the number of dwelling units of their assigned type in each Bzone and the household's income compared to the relative income distribution by BZone. Separately, Bzones are attributed with employment and land use attributes (location type, built form 'D' values, urban mixed use, and employment by type). Household members who are workers are assigned a Bzone work location as a function of the distribution of jobs in the model area. Each home and work location is tied to a specific Bzone with its associated attributes.
Policies are added to each household as a function of their home and work Bzones:
The following sections describe each module that contributes to this concept.
2.6.2

Household multimodal travel
Watch a video overview of the Household Multimodal Travel module
Travel of various modes by households (vehicle, transit, bike, and walk modes) is estimated as a simple function of the rich demographic and land use attributes of the household. In metropolitan areas travel is also influenced by inputs on transport supply on a per capita basis, such as available roadway capacity and bus-equivalent transit service levels. Transit, bike, and walk trips are also influenced by household VMT (i.e. if household VMT decreases, trips by these modes increase, and vise verse). Traditional travel models incorporate behavioral dynamics in choice models to build tours and trips for each synthetic person. VisionEval, by contrast, uses simple regression equations that directly estimate average per capita trips and miles by mode, linked by average trip lengths.
After adjusting VMT for household budget limitations it is further adjusted for household participation in TDM programs (home & work-based) and short-trip SOV diversion before calculating household trips for all modes. The household's bike miles are also adjusted to reflect SOV diversion input.
The following sections describe each module, which are implemented in sequence:
The household's daily VMT is calculated without household budget adjustments
The household's vehicle operating costs are calculated
The household's vehicle operating cost budget is calculated and daily VMT is adjusted to fit within the budget if necessary
Daily VMT reductions due to TDM measures and short-trip SOV diversions are calculated and applied
Vehicle and non-vehicular (AltMode) trips are calculated for each household
2.6.3

Vehicles, fuels and emissions

The powertrains, fuels, and associated emissions datasets for all modeled vehicle groups are among the most complex inputs used in VisionEval. Default datasets are included in the VisionEval installer to simplify this for the user. The user can use these defaults or develop their own data that matches the VisionEval input requirements. It is anticipated that different datasets will be developed by users that can be shared with the VisionEval community. For example, one package may represent a base scenario of federal vehicle, fuel, and emission standards, while another package represents the California zero-emissions vehicle (ZEV) rules and low carbon fuel for the home location's car service.

The model looks in household vehicle sales tables indexed by vehicle type and age to determine the probability of each powertrain in that sales year, along with its associated fuel efficiency and other attributes. Each household vehicle is assigned attributes consistent with these probabilities. In some cases electric vehicles (EVs) are replaced by plug-in hybrid electric vehicles (PHEVs) if household VMT and residential charging limitations exist.

The powertrain mix of non-household vehicle groups – car service, commercial service, transit, and heavy trucks – is applied to VMT (rather than individual vehicles) in the scenario year (rather than sales year). There is some input adjustment for average vehicle age and commercial vehicle type share.

Fuels for each vehicle groups can rely on the package defaults, or use one of two input options. The user can either provide a composite carbon intensity representing all gallons of fuel used for that vehicle group, or provide fuel mix shares (base fuel mix, biofuel blend proportions), combined with package default lifecycle (well-to-wheels) carbon intensity for the individual fuels. The resulting carbon intensity per gallon are applied to gallons generated from VMT and vehicle fuel efficiency assumptions. Adjustments to fuel efficiency due to reduced speeds due to congestion as well as ITS operational programs (e.g., speed smoothing) and EcoDrive programs.

The table below summarizes the vehicle and fuel options available within VisionEval.
| Vehicle Group | Vehicle Types | Powertrain Options | Veh Input Adjustments | Fuel Options |
| --- | --- | --- | --- | --- |
| Household Vehicles | automobile, light truck | ICE, HEV, EV, PHEV | (default veh mix), age, %LtTrk | gas/ethanol, diesel/biodiesel, CNG/RNG |
| Car Service VMT | automobile, light truck | ICE, HEV, EV | veh mix, age (HH %LtTrk) | gas/ethanol, diesel/biodiesel, CNG/RNG |
| Commercial Service VMT | automobile, light truck | ICE, HEV, EV | veh mix, age, %LtTrk | gas/ethanol, diesel/biodiesel, CNG/RNG |
| Heavy Truck VMT | heavy truck | ICE, HEV, EV | veh mix | gas/ethanol, diesel/biodiesel, CNG/LNG |
| Public Transit VMT | van, bus, rail | ICE, HEV, EV | veh mix | gas/ethanol, diesel/biodiesel, CNG/RNG |
Note that individual vehicles are modeled for households, based on sales year default datasets and age of the owned vehicle. Other groups' vehicle and fuel attributes apply to VMT in the scenario modeled year. As a result, PHEVs do not exist other than household vehicles, instead PHEVs are represented as miles driven in HEVs and miles in EVs.
Watch a video overview of vehicles, fuels, and emissions
2.6.3.1

Household vehicle table

The household vehicle table is generated in two steps:
Create Vehicle Table: A

vehicle table

is created with a record for every vehicle owned by the household, and additional vehicle records are added to reach the household's number of driving age persons. Each vehicle record is populated with household ID and geography fields (Azone, Marea) and

access time

attributes. Each vehicle record is either "own" or (driving-age person without a vehicle) assigned access to a

car service

level, depending upon coverage in the household's home Bzone.
Assign Vehicle Type:. Identifies how many household vehicles are light trucks and how many are automobiles as a function of number of vehicles, person-to-vehicle and vehicle-to-driver ratios, number of children,

dwelling unit type

, income, density, and

urban mixed use

data (in

metropolitan areas

only).
2.6.3.2

Powertrains and fuels defaults

These values are defined in two steps:
Load Default Values:. This script, run before the rest of VisionEval is started, reads and processes the default

powertrains

and fuels files in the package and creates datasets used by other modules to compute fuel and electricity consumption, and well as associated fuel and electricity

carbon intensity

emissions from vehicle travel.
An Initialize step is run by VisionEval as part of its initialization on each run. Optional user-supplied vehicle and fuel input files, if any, are processed (including input data checks). When available, modules that compute carbon intensities of vehicle travel will use the user-supplied data instead of the package default datasets.
2.6.3.3

Assign household powertrains and fuels

The powertrain and fuel type is assigned to each vehicle in each household in three steps:
Assign Vehicle Age: Assigns vehicle ages to each household vehicle and

car service

vehicle used by the household as a function of the

vehicle group

(household vehicles only), household income, and assumed mean vehicle age by vehicle type and Azone. The age model starts with an observed vehicle age distribution and relationship between vehicle age and income. These data are currently based on summaries of the 2001

NHTS

. Adjustments are made based on user average vehicle age inputs (household by vehicle type, car service overall).
Assign Household Vehicle Powertrain: This module assigns a

powertrain

type to each household vehicle. The age of each vehicle is used with default tables by

vehicle type

that identify the powertrain mix of vehicles sold in each sales year. Other default tables identify vehicle characteristics tied to powertrain that include battery range,

fuel efficiency

, and emissions rate. Assignments of EVs may be changed to PHEVs if the battery range is not compatible with estimated day-to-day trip lengths, or the home dwelling lacks vehicle charging availability.
Calculate Carbon Intensity: This module calculates the average

carbon intensity

of fuels (grams CO2e per megajoule) by

vehicle group

and, if applicable,

vehicle type

. Average fuel carbon intensities for transit vehicle modes are calculated by

metropolitan area

, other vehicles are calculated for the entire model region. The module also reads the input average

carbon intensity

of electricity at the Azone level.
2.7

Adjustments
2.7.1

Congestion adjustments

Congestion, only calculated on urbanized roads (a subset of metropolitan area roads, requires estimating and combining together the VMT of all vehicle groups. For non-household vehicles, base year VMT is calculated directly from inputs and model parameters, while future year is a function of the input growth basis. Initial allocations of DMVT across road class] is based on input values.

Light duty vehicle (LDV) VMT is allowed to re-allocate between freeways and arterials to balance demand (VMT) and roadway supply (lane-miles) through a generalized cost framework (including roadway speed and congestion fees, if any). Roadway supply (i.e., capacity) is adjusted by delay-reducing ITS operations policies based on fuel-speed curves by powertrain, the resulting congested speeds impact vehicle fuel efficiency. Further adjustments are applied to reflect any speed smoothing and EcoDrive programs that may not affect delay but reduce acceleration and deceleration with associated impacts on fuel efficiency.

No fuel efficiency adjustments for congestion or policies are made to non-urban roadway VMT. The delays faced by each household and associated fuel economy impacts are applied to each individual household's VMT and vehicles. Resulting overall average speeds, delays, and DMVT proportions, by road class at each congestion level on urbanized and other roads are also tabulated along with the resulting average per mile congestion fees paid, if any, and overall vehicle hours of delay (VHD) by vehicle group.
Watch a video summary of VisionEval's congestion adjustment
2.7.1.1

Initialize roadway conditions

The roadway conditions in the model are calculated in three steps:
Load Default Road VMT Values: These calculations are completed before the model run starts. The base year roadway VMT is processed, including light duty vehicle and

heavy truck

VMT by state and urbanized area as well as VMT proportions by urbanized area,

vehicle group

(light duty vehicle, heavy truck, bus), and

road class

. The user can either provide direct inputs for these values or specify a state and/or urbanized area and the model will use default data from the 20xx USDOT Highway Statistics, where available.
Initialize:. This step is run when the model run is initialized. User inputs used by several modules are read and checked (many with several valid options, proportions sum to 1, consistency, congestion fees increase with congestion level). Some of these values are optional, using default data where not specified. This includes various assumptions on base year VMT within both

urbanized area(s)

and the full model region, by

vehicle group

, allocation among

road class

,

growth basis

, and assumptions for

freight vehicle groups

. It also checks inputs on

ITS

operational policies and

EcoDriving

programs, including any user-specified "other ops" programs and

congestion fees

(by road class and

congestion level

).
Calculate Road VMT: Adds together

metropolitan area

VMT of all

vehicle groups

(Households, CarService, Commercial Service, Heavy Truck, Transit) and allocates it across

road classes

(freeway, arterial, other), limiting it to urbanized area roadways for use in congestion calculations. To do so, several factors are established in the base year. One uses the input

growth basis

(population, income, household VMT) to estimate future year

freight vehicle group

(commercial service and heavy truck) VMT (using input base year VMT values by region and Marea, if provided, model-estimates otherwise). A second base year factor identifies the urban and non-urban allocation of VMT from

metropolitan area

households and related commercial service vehicles. For Heavy Trucks VMT an input specifies the proportion of VMT on urbanized roads while transit VMT (of all

transit service modes

) is assumed to only occur on urbanized roads. Base year allocations of urban VMT by

vehicle group

among

road classes

are based on input shares, subject to adjustment during subsequent congestion calculations. Finally, to assess delay faced by each household and associated fuel efficiency impacts, each individual household's VMT is split between miles on urbanized and other road miles.
2.7.1.2

Congestion model and adjustments

Three adjustments are made based on congestion levels:
Calculate Road Performance: Congestion level by road class and the associated amounts of VMT are iteratively estimated. Light duty vehicle (LDV) VMT is allowed to re-allocate between freeways and arterials to balance demand and roadway supply (lane-miles) through a generalized cost framework (including roadway speed and congestion fees, if any and an estimated base year urbanized area lambda parameter based on the area's population and freeway-arterial lane-mile ratio). DMVT allocation at different aggregate demand-supply ratios relies on data from the 2009 Urban Mobility Study (UMS) for 90 urbanized areas, where the model chooses the 5-10 cities with most similar congestion ratios.

The supply calculation considers the delay-reduction effects of deploying urban area ITS operations programs (freeway ramp metering, freeway incident management, arterial signal coordination, arterial access control or user-defined "other ops" programs. The standard ITS-operations program impacts are based on research (Bigazzi & Clifton 2011). Non-urban speeds are also calculated, using a simple ratio of rural-to-urban travel volumes.

The resulting average speeds, delay and DMVT proportions, by road class at each congestion level on urbanized and other metropolitan area roads are calculated, as is the resulting average per mile congestion fees paid, if any, and overall VHD by vehicle group.

Calculate Mpg Mpkwh Adjustments: Adjustments to fuel efficiency (MPG and MPKwhr) for all vehicle groups resulting from traffic congestion, congestion fees, ITS speed smoothing (i.e. active traffic management which reduces speed variation), and EcoDriving are calculated. The fuel-speed curves vary by road class, congestion powertrains (LdIce, LdHev, LdEv, HdIce) and, where applicable, vehicle type relative to reference speeds by road class. The adjustments are based on drive-cycle level simulation research (Bigazzi & Clifton 2011). Note that no adjustments are made for ITS policies (standard and speed smoothing policies) or EcoDrive programs on 'other' road classes (non-freeway or arterials) and non-urbanized roads, which are assumed to be uncongested.

Adjust Household Vehicle MPg Mpkwh: Implements the fuel efficiency (MPG and MPKwh) adjustments of household vehicles (including Car Service VMT), reflecting the effects of congestion, congestion fees, ITS speed smoothing, and eco-driving that were calculated elsewhere. These adjustments vary by vehicle powertrain, vehicle type, and the proportion of the household's travel that is driven on urban and non-urban roads within the metropolitan area. Joint effects are calculated as the product of congestion speed effects and the maximum of implemented speed-smoothing policies (eco-driving & ITS-speed smoothing).
2.7.2

Household costs and budgets

Two adjustments are made in response to household budgets. Vehicle ownership costs are calculated and an adjustment is made to the number of household owned autos if the costs are greater than switching to a 'High' level car service, where available (subject to input limits on car service substitutability). Vehicle ownership costs include financing, depreciation, insurance (unless in PAYD program), annual registration fees, and residential parking fees.

Additionally, in order to respond to pricing policies and energy costs, VisionEval imposes an operating cost budget limitation. Household VMT is constrained such that annual vehicle operating costs must stay below a maximum share of annual household income, or budget limit. A household-specific average annual vehicle operating costs is first calculated, including out-of-pocket per mile costs for each household owned and car service vehicles used by the household, as well as time-equivalent cost (input access times, estimates of VMT at congested speeds, and value of time input). Vehicle operating costs determine the proportional split of VMT across household vehicles. Out-of-pocket costs include the energy, maintenance, repair, & tires, road use taxes (including EV surcharge and optional calculation of fee to fully recover road costs), work/non-work parking, PAYD insurance, input share of carbon and other social costs, as well as car service fees by the household. Note that time-equivalent costs are only used to allocate travel between household vehicles (including car services used by the household). Time-equivalent cost is not used in the balancing of household vehicle operating cost and budget.

The following sections describe each module that contributes to this concept.
Watch a video overview of costs and budgets
2.7.2.1

Auto Ownership Cost & Adjustment

Two steps are required to calculate and adjust auto ownership costs:
Calculate Vehicle Own Cost: Average

Vehicle ownership costs

are calculated for each vehicle based on the vehicle type, age, and annual VMT (financing, depreciation, and insurance), annual registration fees (flat and ad valorum), combined with any residential

parking costs

(if household exceeds free parking limits). To do so,

PAYD insurance

participation is assigned based on household characteristics (drivers by age, annual mileage, income, location type, vehicle type and age) and input PAYD insurance program participation. The ownership cost is converted into an average vehicle-specific ownership cost per mile by dividing by estimated household VMT per vehicle.
Note that PAYD insurance does not affect the cost of vehicle ownership when determining whether a household will substitute car services for one or more of their vehicles. It does affect the out-of-pocket operating cost used in budget limitations on household VMT.
Adjust Vehicle Ownership: Household vehicle ownership is adjusted based on a comparison of the cost of owning versus 'high'

car service

per mile rates, where available. The module identifies all household vehicles in a 'High' car service area, where the car service mileage rate exceeds the household's estimated

vehicle ownership cost

per annual household VMT. The household's

vehicle table

entry changes from 'Own' to 'HighCarSvc' for these vehicles, limited by input assumptions regarding the average likelihood that an owner would substitute

car services

for a household vehicle (separate values are specified by

vehicle type

). Other auto ownership values are also updated (e.g., insurance, total vehicles).
2.7.2.2

Auto Operating Cost & Adjustment

Three primary adjustments adjustments to auto operating cost are carried out in VisionEval:
Calculate Vehicle Operating Cost: A composite per mile cost is calculated as an

out-of-pocket cost

for various household and car service vehicle VMT (see below), combined with cost equivalent of travel time (access time and travel time at congested speeds times

value of time

(VOT)). Total costs result from applying this vehicle-specific cost rate to each vehicle's VMT, where VMT is split among household vehicles (including car services used by household members) as a (reciprocal) function of this vehicle-specific composite cost rate:
Vehicle maintenance, repair, and tire cost (MRT) costs are calculated as a function of the

vehicle type

,

powertrain

and

vehicle age

based on data from the American Automobile Association (AAA) and the Bureau of Labor Statistics (BLS).
Fuel and energy costs are calculated as energy rates time average fuel efficiency (miles per gallon or Kwhr electricity).
Gas taxes are federal, state and local per gallon taxes to cover road costs. For Electric vehicles, an equivalent per mile cost is calculated and can be applied to some or all electric vehicles ($/gallon or EV vehicle surcharge tax).
Other Road Cost Recovery taxes (i.e. VMT tax) is a user input. If the (optional) BalanceRoadCostsAndRevenues module is run, an extra VMT tax is calculated that recovers household share of road costs, consistent across all model households.
Congestion fees are calculated average congestion price ($/mile) for travel on urbanized roads in the Marea multiplied by the proportion of household travel occurring on those roads.
Carbon fee and other social cost fees are carbon cost per mile is calculated as the input

carbon price

times the average household emissions rate (grams/mile), a VMT-weighting of all vehicles in the household. Of the other

social costs

, some are per gallon (non-EV vehicle miles) others per mile (regardless of

powertrain

). The full per mile costs are discounted to only reflect the input proportion of

social cost

paid by user.
Daily parking costs from work parking costs (workers who pay for parking) and other parking cost (cost of parking for shopping, etc.) are summed and divided by the household DMVT. Note that residential parking costs are included in the vehicle ownership not per mile cost calculations.
Pay-as-you-drive (PAYD) insurance is defined for participating households as the sum of the annual insurance cost for all the household vehicles is divided by the annual household VMT.
Car-service costs are the cost of using a

car service

(dollars/mile) is a user input by car service level (Low, High).
Balance Road Costs And Revenues: Optionally, an extra mileage tax ($/mile) for household vehicles needed to make up any difference in the cost of constructing, maintaining, and operating roadways and the revenues from total road cost fees including fuel, VMT, and congestion charges. Optionally, an additional mileage fee ($/mile) on household travel is calculated that would fully pay for roadway costs attributable to household vehicle travel. The cost of existing and new freeway and arterial lane-miles by Marea is calculated from the difference in input lane-miles relative to the base year and input unit road costs (constructing, maintaining, and operating). Reductions in lane-miles are ignored. The proportion of road costs attributable to households is set as the ratio of household VMT divided by the sum of household (including CarService), commercial service, and car-equivalent heavy truck VMT (multiply by PCE). Average road taxes collected per household vehicle mile are calculated as a weighted average of the average road tax per mile of each household (calculated by the CalculateVehicleOperatingCost module) using the household VMT (calculated by the BudgetHouseholdDvmt module) as the weight. Currently no annual fees contribute to road cost recovery.

Budget Household Dvmt: Household VMT is adjusted to keep within the household's vehicle operating cost budget, based on the historic maximum proportion of income the household is willing to pay for vehicle operations. This proportions varies with income. The household's DMVT is then reduced as needed to keep annual out-of-pocket vehicle operating cost within that share of the household's annual income. Annual vehicle operating costs include the household's VMT times their out-of-pocket per mile vehicle costs, adding credits for selected annual payments (annual work parking fee if in a work parking cash-out-buy-back program, annual vehicle insurance if in a PAYD insurance program, and annual auto ownership costs if car service program reduced auto ownership). The module relies on aggregate survey data from the U.S. Bureau of Labor Statistics (BLS) Consumer Expenditure Survey (CES) for years 2003-2015.
2.8

Processing

VisionEval is designed to be easy to install, run, and summarize, even when comparing scores of different scenarios. It produces consistent and detailed performance metrics. The user can modify the metrics produced by the model or define their own from data exported from the model. There are also several ways to think about validation of the model within the VisionEval mindset. These topics are explored in this chapter.